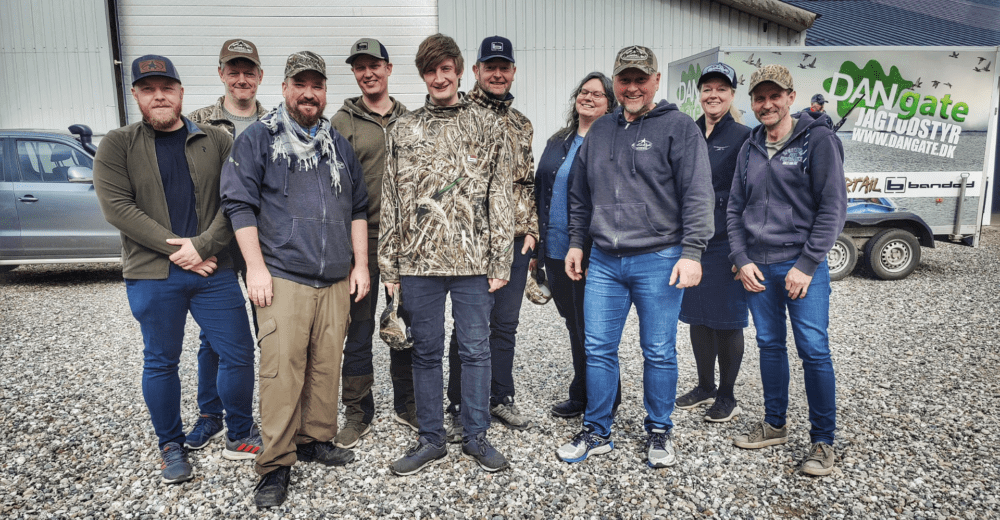 The early start
It all started back in 2008, when Søren Bo Andersen was in the process of installing remote-controlled automation on his new gate – "Why not make things it a little bit easier for yourself?"
Prices were examined and Søren shook his head at the market prices in Denmark. Through his work as logistics and purchasing manager for a number of major production companies, Søren had built up a significant network in China and together with the gate automation for his own gate, he purchased a few extra, which were quickly sold to acquaintances.
Over the dinner table, the name Dangate became a symbol of the gateway to Denmark for importing high-quality goods at great prices. The Dangate logo was designed and Søren developed and launched the website www.dangate.dk.
Hunting enters the picture
Søren has been a passionate hunter since he received his hunting license at the age of 16. He had recently established a feeding ground for the wild game in the area and this is where the idea of automatic feeding came about. Why not mount an automatic feeder on the barrel to regulate the amount of corn dispensed? The feeder would only dispense the necessary corn for the wild game and thereby reduce the amount of wasted feed.
The import of automatic feeders to the Danish market was initiated, and shortly after Søren also introduced a program of tree stands with low weight that makes it very easy to handle. This provided hunters with brand new opportunities and the ability to be extremely flexible when hunting both in Denmark and abroad, as it is super easy to bring these foldable lightweight tree stands with you.
Things took off and as more agreements were made with a number of hunting shops in Denmark, Dangate was registered in 2010 as a private limited company. The same year, Søren also introduced wireless game/trail cameras from Bolyguard for both hunting and surveillance purposes. A product based on the same philosophy as the gate control, automatic feeders and tree stands – that things can be made much easier in everyday life, saving both time and resources.
With the introduction of wireless cameras – and especially after the development of the MMS function – hunters could now receive pictures on their mobile phones or e-mails with pictures of the game in their area. Today MMS cameras are also used by private citizens, security companies and companies for theft surveillance.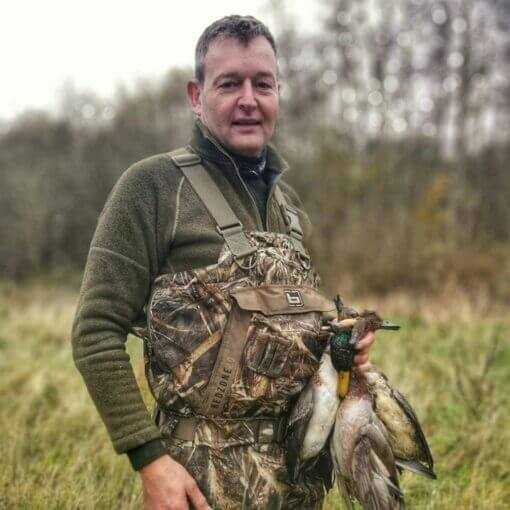 Dangate grew rapidly and it was evident that Søren needed to reconsider his job situation. In 2012, he resigned and left his permanent position as Head of Global Sourcing at Martin Professional, to focus 100% on Dangate. It would turn out to be a really good decision, as Dangate entered an exclusive distribution agreement in 2013 with Eurohunt to provide the Danish and Swedish market with game cameras from Spypoint, game calls from Klaus Weisskirchen, MOJO decoys and other articles for hunting wild boars, roe deer, red deer, fox etc.
Dangate and Danautomatik are separated
In 2013, Søren received an inquiry from TAU Italia as to whether he was interested in distributing TAU's large program of door automation and accessories in Denmark. The product range thus reached a level where it became necessary to separate the two businesses; hunting equipment and gate automation. The name Dangate was already well established and well known by a number of dealers and suppliers of hunting equipment, so it was decided to keep the name based on the fact that the name Dangate represents the gateway of quality goods to Denmark at competitive prices. The new large program of gate automation from TAU Italia, was now to be sold under Danautomatik and the website www.danautomatik.dk was created.
The Dangate family grows in size
In January 2014, Søren's wife Tina joined Dangate to help strengthen the administrative processes, write product descriptions on websites, increase the visibility on social media and be at the forefront of providing great customer service to Dangate's customers.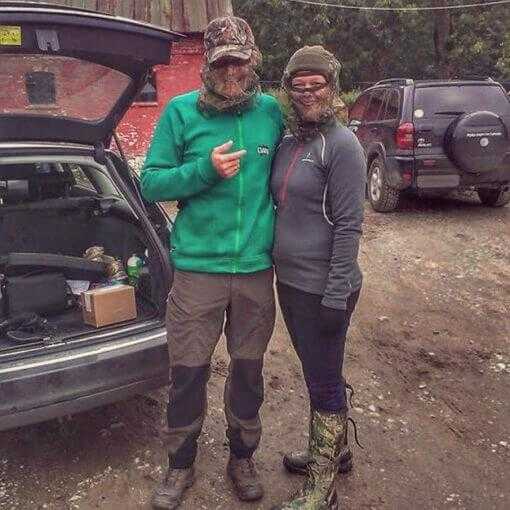 In April 2015, Martin Bigum Baisgaard joined the Dangate team and was put in charge of providing great customer support and servicing game cameras. Martin was also a passionate photographer so he was the creative mind behind many of the great photos and movies you can find on Dangate's website and social medias. Sadly, Martin passed away after an illness in the spring of 2017.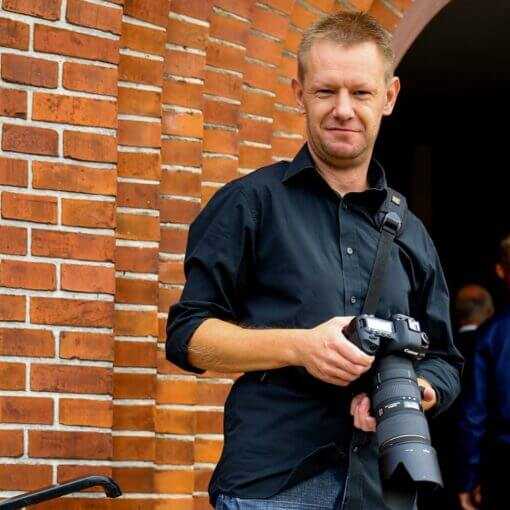 Søren's parents have also been a massive help and support in the early days of Dangate. Søren's mother Sinne took care of packing and receiving goods, while his father Christian took on the practical tasks of cleaning and maintaining the warehouse, trips to the recycling site etc. Sinne and Christian retired from Dangate in 2015. More than well-deserved.
In 2015, Rasmus Rasmussen joined Dangate as our in-house graphic designer. With extensive experience in designing websites and social media content, Rasmus is the creative mind behind the graphical expression in our ads and advertising materials, our website, as well as Dangate's presence on social media.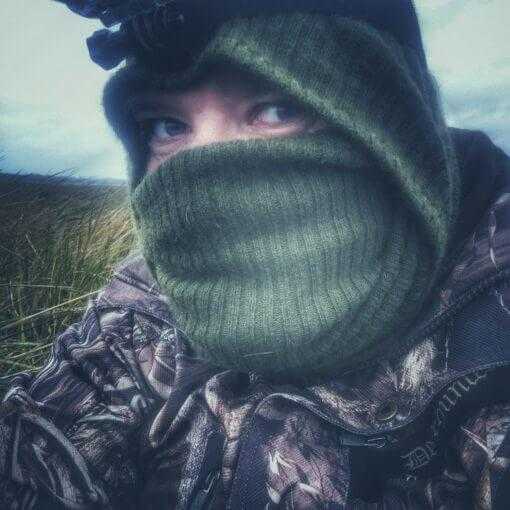 In 2016, Dangate had a clear strategy to further strengthen its focus on customer service and to be even more visible for the dealers. As a result, Henrik Thomassen joined the team as sales manager in April 2016 and became co-owner of both Dangate and Danautomatik. Henrik came from a similar position at Primo Windows and shares the same passion for hunting as Søren. Countless hours have been spent on finding new and exciting hunting gear and then testing the equipment in the field, so that we can guarantee both the quality and durability of our products at all times.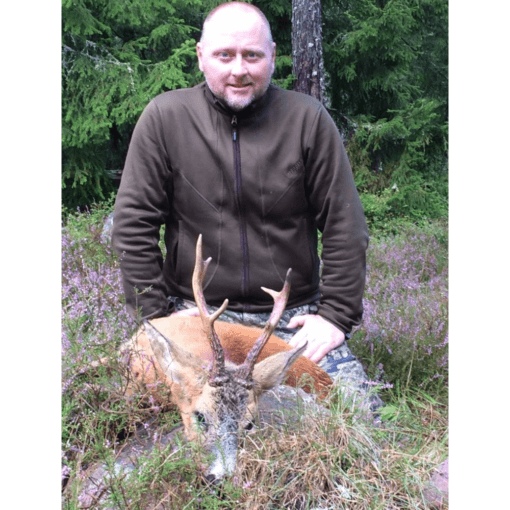 In the autumn of 2017, Kenneth Bigum Baisgaard joined the team as an administrative employee to focus on customer support and service – especially in relation to trail cameras. Since 2020, Kenneth has to a greater extent handled direct sales-related tasks, including sales and support for existing customers, as well as finding new retail dealers in Denmark.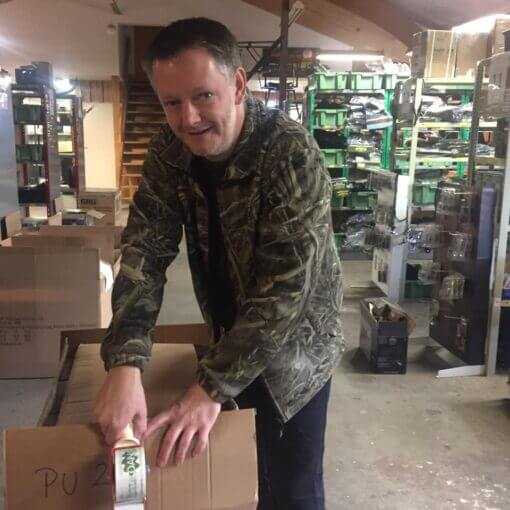 A new European Website
In line with an increasing number of inquiries from international customers who were interested in buying our goods, we chose to establish a European website, which was named www.lucky-hunter.com. Here all product descriptions can be read in English and the goods are payable in Euro.
In the same way that Dangate has for many years supplied quality hunting equipment from the leading brands to the Danish hunters, the goods now became available in several European markets as well.
In addition to the website, Lucky-Hunter has its own profiles on social medias, where we share product news and hunting experiences in English.
In 2018, Rasmus brought over his English girlfriend Charlotte Shirvington to Denmark in the best Viking manner, and thanks to her linguistic background and knowledge of social media, Charlotte has helped develop and make our activities more visible on social medias. In 2020, the two married at a small private ceremony during the start of the corona pandemic.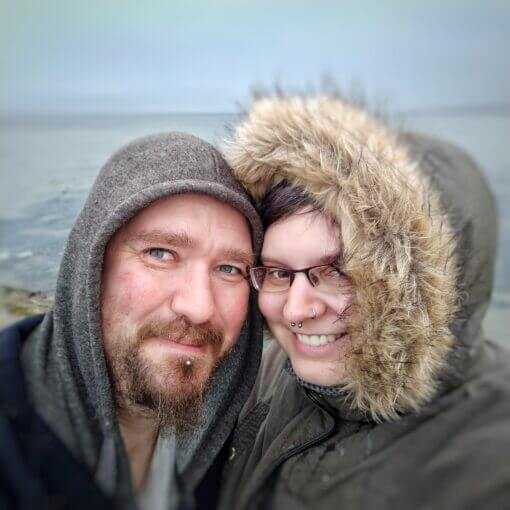 To assist with the daily service and support of game cameras and help free up resources from Kenneth, Søren Niss Bjerregaard was hired in 2020. Alongside his job as an emergency medical technician, Søren is perfors game camera support.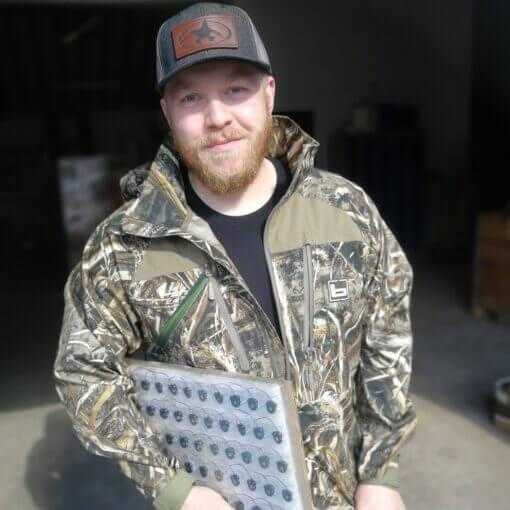 In July 2020, we also welcomed Jens Christian Hjorth to the Dangate family. He is responsible for the sales and support of TAU gate automation for both private and professional customers throughout Denmark. Jens is a trained production technologist who came from the company Alfa Laval, where he has worked with sales and project management. In his spare time, Jens is also a passionate hunter and as such he is a natural part of our product testing and daily sales and service of hunting equipment.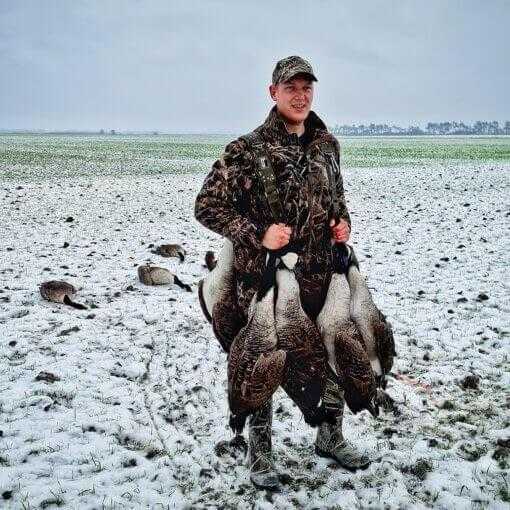 Jens Christian Hjorth
In January 2022, we hired Rasmus Kruse Nørgaard Nielsen, who with his professional background in communication, will operate and develop our profiles on social media. Rasmus has been hunting all his life and has, among other things. worked as a professional hunter / game manager in both Scotland and Sweden and also has a number of hunting adventures in Australia and New Zealand, behind him. So his passion for hunting is great, and combined with his educational background as a "communication manager", he is the right match for this position.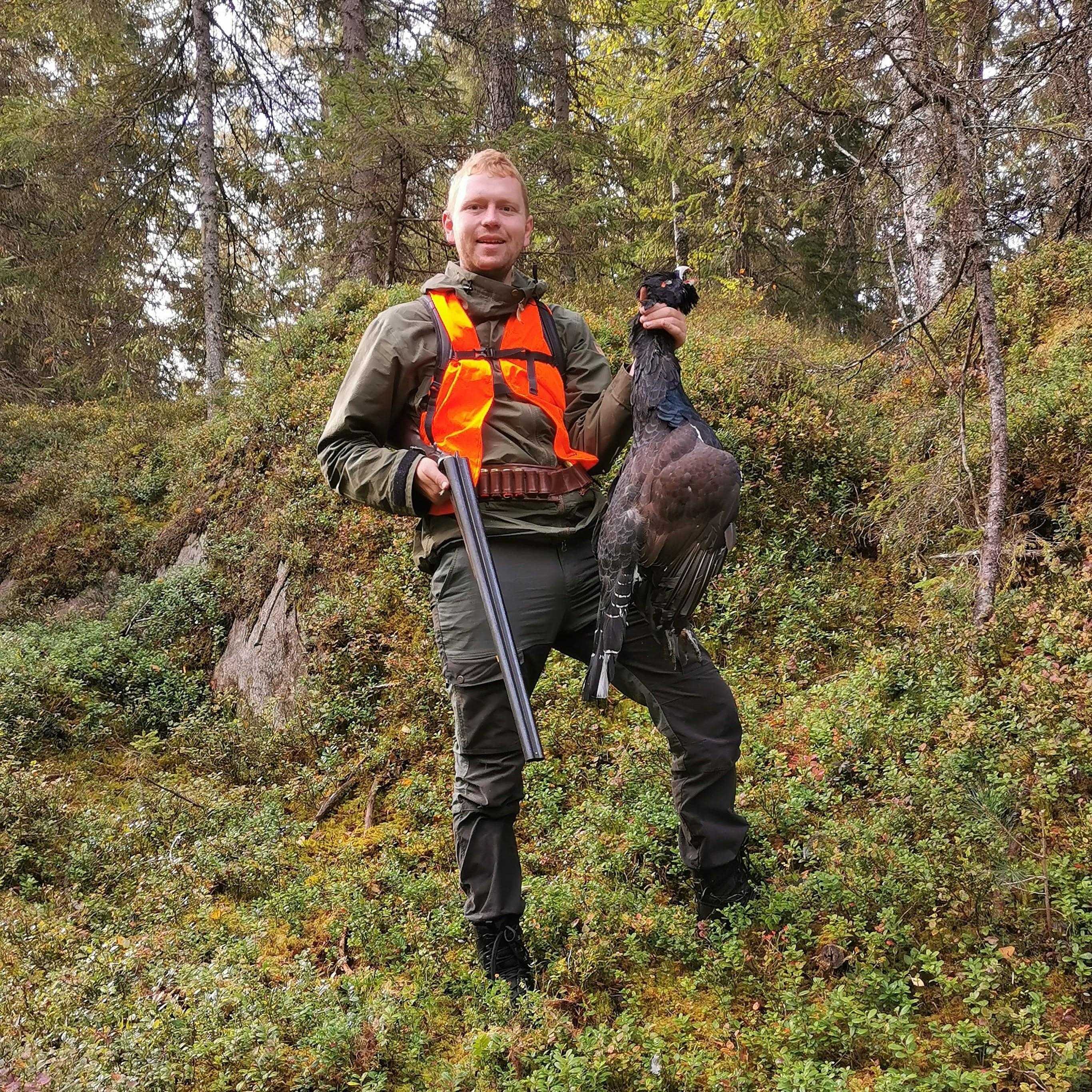 Rasmus Kruse Nørgaard Nielsen
Dangate's strategy for the future is to further strengthen the marketing efforts of our products and brands. To help us with this, in a controlled process, we have entered into a cooperation with Mark Jacobsen, who has an exciting education within experience design. Mark contributes by optimizing our processes and strengthening our efforts within branding and marketing of both the Dangate, Lucky Hunter and Danautomatik brand.
Hunting should be an experience
With Lucky Hunter, we simply want to offer European hunters high-quality hunting equipment from the leading brands on the market with a special focus on the American market, where we find hunting gear for:
Those who do not mind getting a little bit dirty.
Those who demand high-quality hunting equipment.
Those who want to challenge and develop their way of hunting.
Those who recognize that the hunting experience becomes so much greater when the equipment becomes an indispensable hunting companion.
You're the expert – we provide the equipment.
If you have suggestions or inspiration for new Lucky Hunter products and hunting tips on Facebook and Youtube, we will be more than happy to receive your suggestions at info@lucky-hunter.com.
Welcome to the Lucky Hunter family!
On Facebook, Instagram and Youtube you can follow our news, products and many hunting activities. We regularly upload movies and hunting tips that can inspire you to new experiences on the hunt, and you are always more than welcome to share your hunting stories, photos and movies with us on social media.
Thank you for being a part of our story!
Regards Team Lucky Hunter
Become a retailer
Today, Lucky Hunter's products are sold in a large number of hunting shops and online shops throughout Europe. You can expect competent advice and service in the use of our range of game cameras, hunting ladders, feeding equipment, decoys, decoys, decoys, hunting blinds and personal hunting equipment.
Send us an email if you want to sell our products in your store. Contact: info@lucky-hunter.com or give us a call at +45 2272 7015.